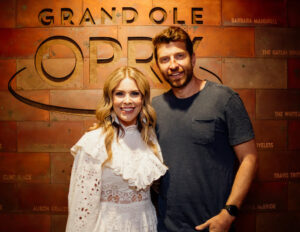 Tasha Layton and Brett Eldredge
NASHVILLE, Tenn.—Chart-topping BEC recording artist Tasha Layton recently marked another first in a year filled with milestones with her debut on the iconic Grand Ole Opry. Layton performed her breakthrough single, "Into The Sea (It's Gonna Be OK)," and her #1 smash, "Look What You've Done," before the welcoming Opry audience.
She joined CMA Award-winning country superstar Brett Eldredge; breakout hitmaker Lainey Wilson; and Grand Ole Opry members John Conlee and Riders In The Sky, among others, for the evening's show.
Before leaving the stage, Layton shared with Opry announcer Charlie Mattos how special it was to appear on the Grand Ole Opry, in part because her grandmother had been such a big country music fan. To add to the evening's significance, Layton's guitarist, Matt Podesla, played the guitar originally owned by Layton's grandmother, now one of the artist's prized possessions.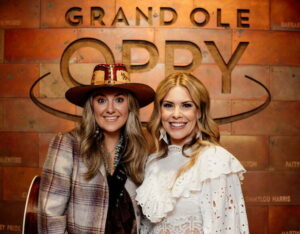 Lainey Wilson and Tasha Layton
ABOUT TASHA LAYTON
Since first captivating radio audiences in 2020, Tasha Layton has become one of Christian music's most celebrated female vocalists. Her recently released full-length debut, How Far, features the current single and title cut, along with the #1 smash "Look What You've Done," and her breakthrough hit, "Into The Sea (It's Gonna Be OK)." Named one of Billboard's Top 5 female Christian artists in both 2020 and 2021, the South Carolina native has been featured on ABC's GMA3: What You Need To Know; co-hosted the 52nd GMA Dove Awards Pre-Telecast; and was recently showcased in the premier episode of K-LOVE On Demand's Empty Stage with Andrew Greer. Also an author, Layton's guided prayer journal, "Boundless: Moving Freedom From Your Head To Your Heart," released last fall. Prior to her solo career, she appeared on Season 9 of American Idol and spent four years as a back-up vocalist for pop superstar Katy Perry. 
For further information, visit tashalayton.com, becrecordings.com or turningpointpr.com. 
Follow Layton on Instagram, Facebook and Twitter.
*All photos: Nathan Pirkle Photography