NASHVILLE, Tenn.—Dallas-based singer/songwriter and worship leader Davy Flowers is celebrating two major milestones this week with the release of her full-length debut, I Was Loved, as well as the success of the record-breaking "The Kingdom Tour," which currently ranks as one of Pollstar's Live 75 top outings. 
Flowers' highly anticipated debut from The Worship Initiative, I Was Loved was produced by Shane Barnard (Shane & Shane) with two tracks produced by Bryan Fowler (TobyMac). A worshipful pop collection exuding intimate joyfulness, I Was Loved includes songwriting contributions from such names as Mia Fieldes, Sarah Reeves and Lindy Conant, among others. Featuring 12 tracks—11 of which were co-penned by Flowers—the album opens with "You," an earnest proclamation of Christ's sufficiency, and is highlighted by such selections as the debut single and title-cut, an autobiographical piano-driven ballad; and "Oh, But God," a jubilant anthem celebrating His grace. 
"Every single declaration of Truth on this record I have truly FOUGHT to believe for many of the years that I have walked with Christ," Flowers shares. "I have struggled to believe that the Father is never going to stop loving me, regardless of the rise and fall of my own weak attempt to love and serve Him. Yet, He has set His affection on us and determined before the foundation of the world that we belong to Him! Our position in the family of God has been purchased and sealed by the sacrifice of Christ, who alone is worthy of our wholehearted worship and abandoned obedience."   
"Davy has been part of The Worship Initiative community for a while, and we've gotten to know her very well," says Shane Barnard. "She has always been deeply passionate about Jesus and His living Word, and she's a natural fit with the mission of The Worship Initiative. We couldn't be more excited to help Davy share her songs and her heart with the world."  
Flowers is currently on the road performing with Housefires, special guests along with Jonathan McReynolds on the 37-city "The Kingdom Tour" headlined by GRAMMY®-winning collective Maverick City Music and 16-time GRAMMY® winner Kirk Franklin. Kicking off June 1 at Miami's FTX Arena, the tour also hit Orlando's Amway Center, Tampa's MIDFLORIDA Credit Union Amphitheatre, and Atlanta's Lakewood Amphitheatre in its first weekend, breaking a record for highest gate gross amount with a combined total audience of more than 50,000 people.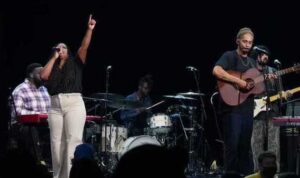 Born and raised in Houston, Davy Flowers serves as a resident artist at The Worship Initiative in Dallas, as well as a worship leader at Dallas' Watermark Community Church. Her music reflects a story of healing and triumph in Jesus, and her passion is to connect broken and weary hearts with the power, presence and love of God through her songs and worship leading.  
For further information,
visit davyflowers.com, theworshipinitiative.com or turningpointpr.com. Follow Flowers on Instagram.