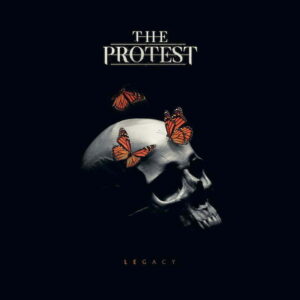 NASHVILLE, Tenn.—Legacy, the RockFest Records debut from The Protest, is receiving rave reviews from both mainstream and Christian media, while the project's first single, "What Else You Got," is a multi-format hit at mainstream rock and Christian radio.
Co-written by the band and Disciple's Josiah Prince, "What Else You Got" is currently #26 on Billboard's Mainstream Rock Indicator chart as well as #10 on Billboard's Christian Rock National Airplay chart. The single is also a featured track on all iHeartRadio Rock stations for the month of August. In addition, "What Else You Got" has been added to Spotify's Rock Hard playlist, along with Pandora's New Rock station.
Legacy, produced by Matt Arcaini (Disciple, VERIDIA), is being heralded as a benchmark in The Protest's career by both mainstream and Christian media. "Legacy is hands down the best hard rock album released so far in 2018," said New Release Today, while Head for the Barricade writes "…The Protest have delivered a stunning guitar-driven rock record which on occasion also brings some punishing alternative metal to the table, giving Legacy a feel of a band who have finally hit their stride and reaching their true potential … one of the hard rock albums of the year."
And according to The Christian Beat, "Legacy is a necessity for fans of gripping, motivating, energizing, and encouraging hard rock … In terms of legacy, The Protest has certainly created a notable one with their latest and greatest."
New Castle, Indiana-based The Protest is comprised of Josh Bramlett (lead vocals), Adam Sadler (guitar), Jarob Bramlett (drums), and TJ Colwell (guitar). Game Changer, the band's 2012 debut, was produced by Travis Wyrick (P.O.D., Disciple), while their 2014 sophomore set, Great Lengths, showcased "Vicious Cycle," The Protest's first Top 50 mainstream rock hit. Following numerous headlining shows and festival appearances this summer, the band will perform at Uprise Festival in Shippensburg, Pennsylvania, in September and the CVJM Loud and Proud Festival in Germany in October, along with dates in Latvia.
RockFest Records, a Nashville Label Group imprint, is helmed by Joseph Rojas, founding member of Dove Award-winning Christian rock band Seventh Day Slumber and creator of the City RockFest Tour. In addition to Seventh Day Slumber and The Protest, the label is home to hitmakers Random Hero; female solo rocker Zahna; Nashville-based rock/metal band The Persuaded; and metalcore trio Amongst the Giants. RockFest Records is distributed by New Day Christian Distributors, with digital distribution by Capitol Christian Music Group.
For further information, visit theprotestrocks.com or turningpointpr.com. Follow The Protest on Facebook, Twitter and Instagram.
-30-
081018