Popular Podcast's Third Season Launches This Week
NASHVILLE, Tenn.—Resonating with listeners of all ages since its debut in 2020, Bridges with Patsy Clairmont and Andrew Greer…Spiritual Connections Through Generational Conversations returns for a highly anticipated third season. Presented by Love Justice International, 12 new episodes of the popular podcast will be available over the next three months via Apple Podcasts, Spotify and Pandora. 
Co-hosted and co-produced by bestselling author and speaker Patsy Clairmont and Dove Award-nominated singer/songwriter and author Andrew Greer, the show turns its latest focus to a range of fascinating faith leaders, authors and artists discussing the call of ministry on their lives, whether as a formal vocation or relational gifting.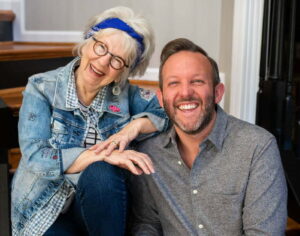 Kicking off this week with former American Idol finalist and GRAMMY®-nominated artist Danny Gokey and his wife Leyicet, upcoming Bridges guests are slated to include GRAMMY®-winning singer/songwriter Sandi Patty; author, speaker and life coach Jan Silvious; GRAMMY®-nominated singer/songwriter Tim Menzies; pastor and author Scott Sauls; critically-acclaimed Citizens frontman Zach Bolen; worship leader and genre-spanning vocalist Charles Billingsley; and popular speaker and entrepreneur Harris III, among others. 
"Ministry is born out of stories lived, so I think sharing our stories can be a pipeline for the Holy Spirit to communicate the greatest story of all—redemption," Greer says of the show's thematic spotlight. "Living in our world isn't easy with so many voices, so many opinions, and so few listeners. We hope these conversations can encourage folks, including ourselves, to be slower to speak and quicker to listen. We have much to learn from each other if we will just open our hearts and ears."
"I'm thrilled that our third season of Bridges is filled with so many winsome guests, because variety truly is the spice of life," shares Clairmont. "I love having friendships with people of all ages, and I continue to learn so much from both the fresh views of youth and the seasoned perspectives of my own generation."  
ABOUT THE PODCAST
Bridges with Patsy Clairmont and Andrew Greer offers conversational connections with some of today's leading voices of faith. Landing in the Top 15 on Apple's Religion & Spirituality podcast chart following its 2020 debut, the show has since been downloaded more than 120,000 times and has featured such guests as Emmy-winning television host, author and recording artist Kathie Lee Gifford; former star of "The Bachelor" Ben Higgins; chart-topping singer/songwriter and author Tasha Layton; Cy Young Award-winning MLB pitcher Barry Zito; and New York Times bestselling author and speaker Jon Acuff; among numerous other inspiring personalities from all walks of life.
 
Bestselling author and speaker Patsy Clairmont has brought her unique brand of wit and wisdom to audiences around the world for nearly 40 years. A founding speaker on the popular Women Of Faith tour, Clairmont's continued guiding influence has helped the groundbreaking ministry reach over 5 million people throughout North America in the past two decades. Drawing inspiration from her own life experiences, Clairmont's beloved books encompass devotional, fiction, children's and gift offerings. 
 
An eight-time Dove Award-nominated singer/songwriter, producer and author, Andrew Greer is also the co-creator and co-host of the popular streaming series Dinner Conversations with Mark Lowry and Andrew Greer; and he serves as host, director and co-producer of the K-LOVE On Demand series Empty Stage with Andrew Greer. With a discography of critically acclaimed recordings and books to his credit, Greer additionally co-created and co-produced the bestselling 2022 multi-artist recording Bellsburg (The Songs of Rich Mullins).For further information, visit bridgesshow.com.