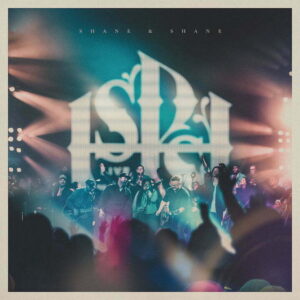 NASHVILLE, Tenn.—Internationally renowned worship leaders and preeminent songwriters of the genre for more than two decades, Shane & Shane return March 17 with Psalms, Hymns, and Spiritual Songs (Live). The Worship Initiative set, recorded live at Liberty University in Lynchburg, Virginia, captures a powerful night of worship featuring 10 selections—both previously released and all-new songs. 
Produced by Bryan Fowler (TobyMac, Chris Tomlin) along with Shane Barnard—who also co-wrote each track—Psalms, Hymns, and Spiritual Songs (Live) includes additional vocals from The Worship Initiative's Davy Flowers, Aaron Williams and John Marc Kohl, as well as Trenton Bell. 
Among the project's highlights are two newly penned songs: debut single "You've Already Won," a victorious proclamation of the finished work of Christ written by Barnard and Fowler; and "All Sufficient Merit," which will be available on streaming platforms February 3. Extolling Jesus' ultimate sacrifice, the latter track—penned by Bethany Barnard, Shane Barnard and Bryan Fowler—joyfully declares, "It is done/It is finished/No more debt I owe/Paid in full all sufficient merit now my own." 
"There's a theme in these songs, and it's the same theme in everything that we do," explains the duo's Shane Everett. "We use the scriptures to remind ourselves that Jesus has won, and He's given us a way when there was no way. This album, from the recording itself to the lyrics of the songs, points to Jesus. As we seek Him, He answers. It's cool to experience this together, and on this specific night in Lynchburg we did."  
"The live experience is very special for us, especially when we can push record and capture it," Shane Barnard adds. "We love Colossians 3:16 and we love seeing it happen in real time when God's people gather to teach and admonish one another in all wisdom through singing psalms, hymns, and spiritual songs. Something special happens in that act; it's undeniable. When we're asking God to convince us—through people singing next to us, in front of us and behind us—to believe in His love and grace, and the reality that the finished work of Christ is bigger than our sin, that's when His Word begins to dwell richly in us."
ABOUT SHANE & SHANE
For more than two decades, Shane Barnard and Shane Everett have been trailblazing worship leaders and songwriters for the global Church. With a mission to write and record music that is biblically based, lyrically rich and sonically engaging, Shane & Shane have released 40 albums; garnered more than 613 million streams; over 100 million YouTube views; and two million combined monthly listeners on Spotify and Apple Music to date. Their signature songs include "You're Beautiful," "Psalm 23 (Surely Goodness, Surely Mercy)" and "You're Worthy of It All," among countless others. Through the years, Shane & Shane have collaborated with such artists as Michael W. Smith, David Crowder, Keith & Kristyn Getty, Gabby Barrett, The Brooklyn Tabernacle Choir and Phil Wickham.  
Shane & Shane are founders and leaders of Dallas-based The Worship Initiative. The equipping ministry offers a library of hundreds of popular worship songs; team training materials; instrument tutorials; and song-based devotionals, among many other offerings. The Worship Initiative has released more than 30 albums to date, and its unique community of artists, songwriters and theologians seeks to be a catalyst for musical and spiritual growth in the Church.