NASHVILLE, Tenn.—"Tree And The Nails," the debut radio single from singer/songwriter and pop vocalist Billy Ballenger, is impacting audiences across the country and is now available on streaming platforms. The powerful ballad was penned by Ballenger, along with Jason Roy and Jesse Garcia of Christian radio mainstay Building 429. Roy also produced the song, which is garnering airplay on Celebration Radio 101.5 in Merced, California; Christian 105.7 in Fayetteville, North Carolina; Worship FM in Augusta, Maine; and the Family Life Network, among other outlets.
"During Winter Jam last year, I met Building 429's Jesse Garcia backstage one night and really shared my heart," Ballenger remembers. "Jesse, and eventually Jason, and I developed a friendship which led to us writing 'Tree And The Nails' together. We wanted the lyrics to wake us from our mundane routines in life and help to draw us back to the Cross, where we recognize we are nothing without Christ. At the same time, we set out to remind listeners that God has a plan and purpose for each of our lives. And that He will lift our hearts with His Word and love."
"As we worked on the song, Jason was the natural choice to also produce the recording," Ballenger continues. "Jason has a way of being sure what you hope to communicate from your heart doesn't get lost in the studio. Because at the end of the day, it's about making sure you have the song you believe Heaven wants you to share. And one that connects that message with your audience right where they are."
"Working with Billy is such a joy," said Jason Roy. "From day one, I knew I wasn't recording just a singer or a leader of a band. As we got to know each other, I could see he's an artist who has something to say outside the typical. Honesty, integrity and unflinching commitment to the Truth give his testimony and music power that is beyond the norm, and a privilege to be a part of."
"Tree And The Nails" is the title cut of Ballenger's latest EP, which released earlier this year. Ballenger will be performing the song for live audiences this summer and fall, including at Missouri's "Light The Way" music festival, where he will also be the featured speaker.
ABOUT BILLY BALLENGER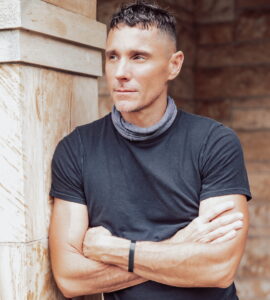 Billy Ballenger's powerful life story of finding redemption in prison has riveted audiences across the globe. Following a difficult childhood, which included being bullied, Ballenger married and became a father at the age of 18 as he pursued a lifestyle of partying, substance abuse, violence and burglary. After a SWAT team invaded their home, Ballenger and his wife, Jodie, were both sentenced to six years in prison and lost custody of their daughter. While incarcerated, Ballenger surrendered his life to Christ, and two years later, he and Jodie were released and reunited with their daughter.

Today, his journey fuels his passion for sharing the Hope of Christ with audiences around the world, including Russia and China. Ballenger's Break the Grey Inc. has produced assemblies at hundreds of schools, and he's shared his testimony and music with more than 500,000 listeners at festivals, churches, camps and other venues. In 2020, Ballenger joined the Winter Jam Tour Spectacular lineup—Christian music's largest annual tour—performing in 31 arenas around the country. He has released three EPs: Skin Deep in 2012; Walking On Waves in 2020; and this year's Tree And The Nails. 
For further information visit billyballenger.com or turningpointpr.com. Follow him on Facebook and Instagram.