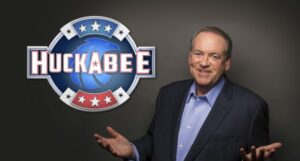 NASHVILLE, Tenn.—Acclaimed singer/songwriter, worship leader and pastor Charles Billingsley is slated to appear on TBN's top-rated talk show "Huckabee" the weekend of July 11. In addition to chatting with the program's host, former Arkansas governor and presidential candidate Mike Huckabee, Billingsley will perform "I Was Made For This," the title-cut from his latest critically acclaimed StowTown Records release.
Billingsley's "Huckabee" episode premiers on TBN Saturday, July 11 at 8:00 pm ET, with an encore presentation Sunday, July 12 at 9:00 pm ET. The show will also air on Newsmax at 10:00 pm ET Monday, July 13. Billingsley, who battled COVID-19 in April, will discuss his road to recovery and recent return to the stage. 
"I'm thrilled to be healthy once again and to have this opportunity to visit with my friend Mike Huckabee," says Billingsley. "I've known Mike since he was governor of Arkansas, and we've connected several times at conferences where I was leading worship and he was speaking. He's a great bass player, so we love for him to join the band when we do events together."    
In addition to his appearance on the show, Billingsley will perform the poignant ballad "Where You're Supposed To Be"—a reminder of God's sovereignty amidst the trials of life—as an exclusive for "Huckabee's" digital platforms. 
Each week "Huckabee" presents a unique look at the heart of America, in its patriotic, God-honoring, family-friendly glory. Along with Gov. Huckabee's take on current events in Washington, D.C., and around the country, his guests have included Vice President Mike Pence; internationally renowned evangelists Franklin Graham and Luis Palau; music icons The Beach Boys, Bill Gaither, Sandi Patty and Newsboys; and best-selling comedians Chonda Pierce and Rich Little, among numerous others. "Huckabee" also shines a spotlight on the faith and down-home heroics of everyday individuals from across America. 
Launching his career nearly three decades ago as a lead vocalist for GRAMMY®-nominated genre giants NewSong, Charles Billingsley has since headlined more than 3,200 concerts, released 24 recordings as a solo artist and garnered seven #1 Inspirational radio hits. A sought-after worship leader and speaker, Billingsley currently serves as the teaching pastor and worship leader at Thomas Road Baptist Church in Lynchburg, Virginia, as well as an adjunct instructor at Liberty University. He is also the worship leader for such popular events as Women of Joy, Gridiron Men's Conference and Celebrators Conference, among others. 
Billingsley's latest StowTown Records release, I Was Made For This, showcases 12 tracks—a collection of newly-penned originals and classic pop favorites. Highlighted by the title-cut, a vibrant worship anthem declaring the Savior's glory, I Was Made For This also includes a new arrangement of Mr. Mister's classic hit "Kyrie," as well as the deeply personal "Play The Man," which was penned for Billingsley's two sons. 
StowTown Records was founded in 2011 by Ernie Haase and Wayne Haun and welcomed partners Landon Beene and Nate Goble in 2014. A powerhouse independent Gospel music label, StowTown is home to renowned pop/Inspirational artists Charles Billingsley, Cana's Voice, TaRanda Greene and Jody McBrayer, as well as acclaimed comedian Tim Lovelace, and some of Southern Gospel's biggest names, including Ernie Haase & Signature Sound, Doug Anderson, The Browns, Tiffany Coburn, The Collingsworth Family, The Erwins, The Guardians, Trey Ivey, The Little Roy & Lizzy Show, Devin McGlamery, The Perrys, Rambo McGuire, Southern Raised, The Steeles, The Taylors and Triumphant. Distributed worldwide via Provident/Sony Distribution, StowTown Records artists have garnered multiple GMA Dove Awards and chart-topping releases.