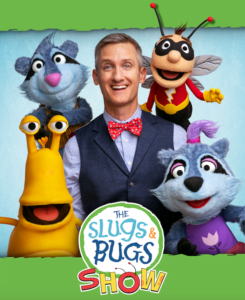 NASHVILLE, Tenn.—Uniquely created to help children and parents grow together in Truth, the groundbreaking—and now critically acclaimed—"The Slugs & Bugs Show" is set to premiere today on home video and streaming. Hosted by Dove Award-nominated singer/songwriter and family entertainer Randall Goodgame, each episode showcases joyful stories, memorable musical moments, and a colorful cast of characters who journey through life together, grounded in biblical principles.  
Produced by veteran VeggieTales film producer J. Chris Wall and executive produced by Brock Starnes of Brentwood Studios, "The Slugs & Bugs Show" is Gospel-centered fun for a new generation of families. Goodgame and his co-stars, including Doug the Slug, Sparky the Lightning Bug, Morty and Maggie Raccoon, and Goodgame's wife Amy, among others, are joined by a who's who of special guests throughout the series. Acclaimed singer/songwriters Andrew Peterson and Buddy Greene; The Jesus Storybook Bible author Sally Lloyd-Jones; and renowned theologian and author Russell Moore, are among numerous familiar faces who visit the Slugs & Bugs Workshop.  
"Not all shows are so careful as 'The Slugs & Bugs Show' in drawing out the practical, gritty ways that the Gospel of grace alone makes life in family and community possible," The Rabbit Room says of the new series. …"It takes vision, artistic and literary craftsmanship, and a great deal of love to create a space where parents can remember things as their children discover them, where adults and children can satisfy together their 'eternal appetite of infancy,' as they grow younger together in the graces of the Father who 'is younger than we.' I am thankful to the creators and performers who have made 'The Slugs & Bugs Show' such a space."  
"'The Slugs & Bugs Show'​ is reminiscent of 'Mister Rogers' Neighborhood​' at times in the way it draws children into easy, regular conversation with adults," writes The Gospel Coalition. "The cast of regulars, as well as the parade of guests, express natural curiosity about the world, joys, and fears in terms that people of all ages can understand. …'The Slugs & Bugs Show'​ sails above the annoying cheesiness of typical kids' TV. Parents, rejoice! This is not a show that will get on your nerves. On the contrary, you will enjoy it right alongside the kids."   
 
The first 13 episodes of "The Slugs & Bugs Show" premiere today on home video and streaming. The series will also be available via RightNow Media, a faith-based streaming platform serving more than 18,000 churches around the country.   
 
L-R: "The Slugs & Bugs Show" producer J. Chris Wall; executive producer
Brock Starnes; and Randall & Amy Goodgame
About Randall Goodgame
A singer and sought-after songwriter, CCMMagazine.com hails Randall Goodgame as "…the greatest thing to happen to children's music in a generation." His Slugs & Bugs brand was birthed in 2007 with the debut of Slugs & Bugs & Lullabies, a collaboration with award-winning singer/songwriter Andrew Peterson. Goodgame now solely helms the Dove Award-nominated series, which continues to receive rave reviews from families around the world. Among other projects, the Slugs & Bugs brand includes four Sing the Bible word-for-word Scripture recordings and a line of Slugs & Bugs books which launched in May from B&H Kids.    
About Brentwood Studios
Founded in 2008 by former VeggieTales executives, Brentwood Studios partners with producers and content owners to develop family brands that kids love and parents appreciate. Brentwood Studios works with its partners to create content, experiences, and distribution opportunities.