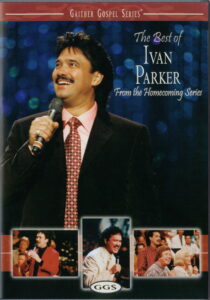 NASHVILLE, Tenn.—The Best of Ivan Parker: From The Homecoming Series, a Gaither Music Group collection originally released in 2007, has returned to the Top 5 of Billboard's Music Video Sales chart. The best-selling DVD is #4 on the publication's March 11 chart, joining such iconic artists as The Beatles, Adele and The Rolling Stones in the Top 10. Upon its initial release a decade ago, The Best of Ivan Parker reached the chart's #2 position.
The Best of Ivan Parker, hosted by GRAMMY® and Dove Award-winning Gospel Music pioneer Bill Gaither, features the award-winning artist's most popular Homecoming video series performances through the years, along with never-before-seen footage, family photos, and interviews. Spotlighted in the collection are such classic hymns as "In The Garden" and "Jesus Loves Me"; Christian music standards including "Rise Again" and "I Can Only Imagine"; and Parker's signature song, "Midnight Cry."
Ivan Parker has been one of Southern Gospel's most lauded vocalists for more than three decades, having received 32 Singing News Fan Awards including 14 Favorite Soloist honors. He was lead singer for the Dove Award-winning quartet Gold City from 1983–1993 during which time he recorded the now-classic "Midnight Cry." As a solo artist, he has released 16 recordings and five DVDs, along with being featured in 32 best-selling Gaither Homecoming videos. His #1 Southern Gospel radio singles include "Hit The Ground Running" and "I Choose." Parker's 16th solo recording, Dancing In The Rain, released last year on the Difference Media label.
One of the largest independent Christian music companies in the world and a household name for millions of fans, GAITHER MUSIC GROUP is known worldwide for its award-winning and top-selling CD and DVD recordings, including the Gaither Gospel Series, of which 133 products have been certified gold, platinum or multi-platinum. These recordings, which encompass more than 177 video copyrights, showcase gospel music pioneers, many of the finest performers in the gospel genre, up-and-coming acts and country artists including The Oak Ridge Boys, Jimmy Fortune, Joey+Rory, Alabama, George Jones, Vince Gill and others. The Gaither brand of artists and products topped the Billboard Year-End Chart of Music Video Sales Labels for 2000, 2011, 2014 and 2015. Founder and recording artist Bill Gaither is a 6-time GRAMMY® Award winner and a recipient of over 41 Gospel Music Association Dove Awards.
 For further information visit gaither.com, ivanparker.com or turningpointpr.com.
-30-
030917