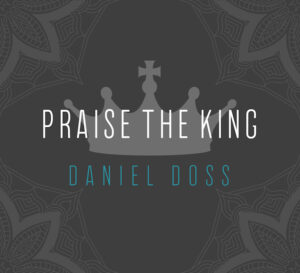 NASHVILLE, Tenn.—Singer/songwriter and worship leader Daniel Doss returns with the deeply personal Praise the King (The Fuel Music) March 3, his first full-length recording in nine years. Produced by Doss, along with Brian Hitt (Plumb, Charles Billingsley) and Andrew Bergthold (Blanca, Big Daddy Weave), the album's 10 original selections—all penned or co-written by Doss—celebrate Hope and healing following a difficult season for his family.
Featuring collaborations with such award-winning songwriters as Benji Cowart, Krissy Nordhoff, Kenna Turner West and Nathan Fellingham, among others, Praise the King was mixed by industry veterans Marc Nelson, (Fleetwood Mac, Colbie Caillat) and Ainslie Grosser (Casting Crowns, Jesus Culture), with portions of the project mastered by former downhere frontman Jason Germain.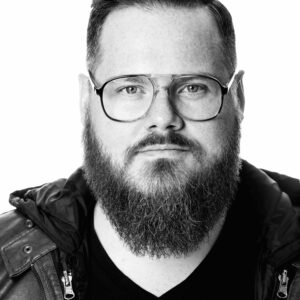 The album is highlighted by the poignant "Stained Glass Windows," a song of deep significance for Doss and his wife, Emily. The couple experienced a heartbreaking season of infertility and multiple failed adoptions before ultimately bringing home sons Manny and Oakley.
"Often when all we see are broken pieces, God sees a grander plan," says Doss of the song's meaning. "That's how it was with our journey through infertility and adoption. We are thankful that our dreams were shattered, because God is showing us His ways are so much better."
The album's worshipful title track was penned in reply to the fear and uncertainty gripping the world in the wake of the 2015 Paris terror attacks. "There is healing and power that comes when we lift high the name of Jesus," Doss says. "He is the solution for the hate that is tearing us apart as believers and as the human race." And the stunning closer, "Brother Comes Home"—co-written with multi-Dove Award winner Kenna Turner West—is rooted in the story of the Prodigal Son, encouraging the Church to welcome all with open arms.
Doss' debut, Greater Than Us All, was released by Sparrow Records in 2008 under the moniker of the Daniel Doss Band. Today an acclaimed songwriter with Word Worship Music, Doss leads worship in churches and at camps and conferences around the country. He and his wife have also been instrumental in launching two congregations.
From its inception Word Worship Music has been built upon the rich Church music heritage serving as home to some of the world's best loved hymns and Gospel songs. From that platform, careers of some of the cornerstones of early Contemporary Christian Music were launched. With an impressive array of new songwriters and worship leaders, Word Worship Music continues to establish themselves as a leader in songs for the Church. Word Worship Music is a Division of Word Entertainment, a Curb Company, celebrating 65 years of history.
For further information, visit danieldossmusic.com or turningpointpr.com. Follow Doss on Twitter @danieldossmusic and Instagram @danieldoss.
-30-
020317